We were initially called to an emergency glass repair. There was a single toughened glass panel that had shattered above a busy road. The clients' site is in central London. We attended site in the evening, working from midnight to remove the dangerous, broken panel and install a temporary panel.  We accessed internally from ropes […]
Continue reading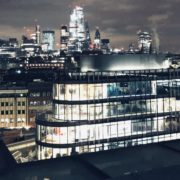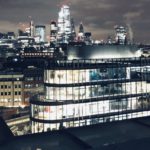 We were approached by an international law firm asking us to carry out some complex high-level glass replacements.  They had another glazing company on-site prior to us, who, unfortunately, had bitten off more than they could chew.  This left the client with glass that was the wrong colour and 6 replacements outstanding. Using our experience […]
Continue reading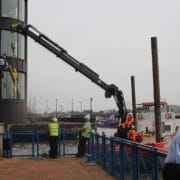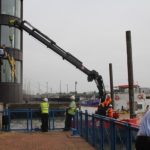 The glass replacement was right on the River Thames at Tower View, a residence with amazing views of Tower Bridge in London. The position of the windows being replaced required a bit of outside the box thinking. We carried out the replacement using a specialist barge with a 5-tonne crane on it. The Glazing Face […]
Continue reading
The existing glass of this penthouse flat in Bath had broken as a result of Nickel Sulphide Inclusion. The Glazing Face replaced the glass using a trolley crane internally and spider MEWP (Mobile Elevated Work Platform) externally, with a team of 4.
Continue reading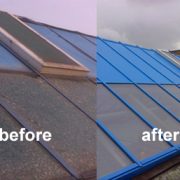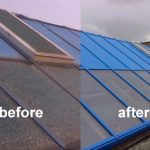 Basildon County Court's main atrium had been neglected for many years. The Glazing Face were instructed by Coniston Construction to completely overhaul the glazing. Following the instruction we replaced all of the glass with solar control glass and replaced the existing insulated cladding panels with new powder coated insulated panels.
Continue reading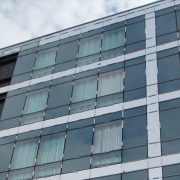 One Glass Wharf in Bristol had severe issues with water ingress through the curtain walling, The Glazing Face were instructed by Balfour Beatty to completely strip the curtain walling back and replace any missing or poorly installed components.
Continue reading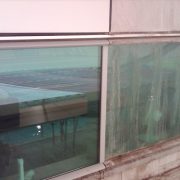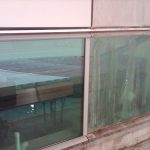 Wales National Pool had an issue with their roof which meant large amounts of water were running through the roof lining and down the face of the glazing causing grade one corrosion on the glass, our team of trained technicians treated the glass with our specialist cleaning chemicals and managed to remove the corrosion and […]
Continue reading